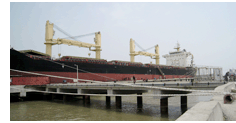 In January 2010, the Group announced the acquisition of 100% equity interest of Ocean Jade Investments Limited with a view to enter the dry bulk shipping market. The acquisition was completed in May 2010 and Ocean Jade became a wholly owned subsidiary of the Group.

Ocean Jade has cooperated with Waibert Navigation Company Limited to establish a joint venture company focusing on investment in owning and operating vessels, coal shipment logistics services, acquisition, management and/or operation of terminals, as well as related logistics operations.

The immediate investment was to acquire two Handy-size vessels (about 30,000 metric tonnes deadweight per vessel) and two Panamax vessels (about 76,000 metric tonnes deadweight per vessel) to provide shipment for contract of affreightment providers both domestically and outside of China.




Ocean Jade: diversification into coal shipping logistics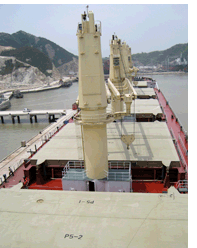 According to government statistics, China imported approximately 297 million tonnes of iron ore and 48 million tonnes of coal in the first half of year 2009, representing an increase of approximately 29% and 124% respectively as compared to the same period in 2008.

Coal, in particular is likely to be in high demand with new power plants being installed across the country. A report in the 21st Century Business Herald suggested the annual coal demand in China is expected to reach 2.5 billion tonnes by the end of 2010 and 2.9 billion tonnes by 2020. Power plants alone, is estimated to consumer 1.5 billion tonnes of coal by 2010 and 1.9 billion tonnes by 2020.

The dry bulk industry projects the growing demand for coal, and iron ore as well, will likely drive the market to expand in the near future. To seize the market opportunity, the Group further extends its business strategy and diversified into coal shipping logistics through acquisition.

The acquisition of Ocean Jade Investments Limited represents a significant move by the Company to diversify beyond the waste incineration and power generation business in China. The joint venture company with Waibert Navigation will leverage the escalating demand in China's dry bulk shipping industry as the country saw a steady demand in steel and coal consumption induced by the government's efforts to stimulate the economy. The investment is in line with the Group's strategy to further our position in the field of logistics and infrastructure projects on the mainland.